Fancy Velden am Wörthersee ?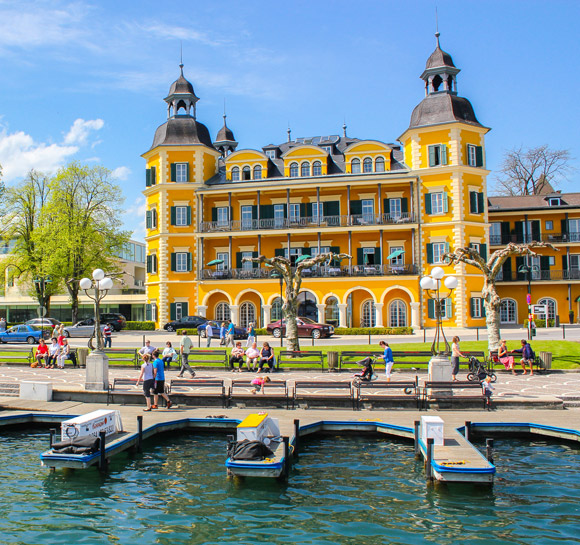 da LeopoldoSEEAPARTMENT
our lake apartment
is expecting you offering a unique view of the Lake Wörth and the Bay of Velden, a few steps from the Hotel Schloss Velden.

The size of the apartment is 98 sqm and has a balcony offering a splendid view of the lake. It is equipped with a full-size bed and a sofa bed for 2 to 4 persons, 365 days a year.

The apartment is on the second floor and is only accessible via staircase.

within easy reach
there are several restaurants and cafés. The centre of Velden, the Casino Velden and numerous shops are in a walking distance of 400 to 600 metres.

The Hotel Schloss Velden, the lido, the landing stages of the Lake Wörth shipping as well as the Christmas market in winter are directly nearby and really worth seeing.

an excellent location
like Velden has two freeway accesses which give you the opportunity of exploring further surroundings.

The nearest airport – Kärnten Airport Klagenfurt – is only a 15 minutes' drive away.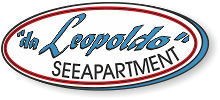 … aboutfacilities
98sqm
The apartment consists of a kitchen-cum-living room, a bedroom with walk-in cupboard, a large bathroom, a separate toilet and a small lobby with a wardrobe as well as a balcony opening onto the lake.

bathroom
The bathroom is equipped with a shower and a double washstand as well as a cupboard.

toilet
The toilet and all the other rooms are accessible from the lobby with its wardrobe and a large mirror.

kitchen-cum-living room
In the large and open kitchen-cum-living room there is a comfortably sitting furniture (containing a sofa bed), a cosy wing chair, a large flatscreen Sat-TV as well as a completely equipped kitchen and eating area.
The kitchen consists an electric cooker, an oven, a large fridge, a dishwasher, a coffee maker, a kettle and other cooking utensils.

balcony
From the large kitchen-cum-living room and the balcony you can enjoy an almost unique view of the Lake Wörth and the nearby Bay of Velden.

bedroom
The bedroom is equipped with a comfortable full-size bed and large walk-in and dressing cupboard.

extras
The lake apartment da Leopoldo offers free Internet access (WLAN), free parking space nearby (if available) as well as bedlinen and towels.
When the weather is cool and in winter, a central heating warms the apartment cosily.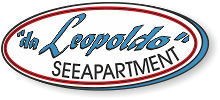 please note
check-in
check-out

Arrival and check in from 3 to 5 p.m. The departure is requested between 8 and 10 a.m. Please, inform us beforehand about your arrival and departure times.

additional beds
The apartment cannot be equipped with baby cribs and there is no room for additional beds either.

2nd floor
The apartment is situated on the second floor and is accessible via staircase (38 steps).

smoking
Smoking is strictly forbidden in all the rooms of the accommodation !

celebrations
Private parties, celebrations and social events are strictly forbidden !

pets
Pets are not allowed !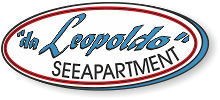 request & reservation
booking request
Information on availability and price for a certain space of time can be given by e-mail on request. We are happy to be at your disposal and speak German, English and Italian.

reservation & payment
The prices for the apartment can vary and depend on demand. For a valid booking the total amount must be paid in advance at least 21 days before arrival, otherwise the booking is cancelled.

cancellation
In case of cancellation until 14 days before arrival 80%, until 6 days before arrival 20% of the total amount are refunded. Later no more refunding is possible.

Feel free to contact us ! We are happy to help you and will deal with your request as soon as possible.

Where you can reach us
spambots@email.adieu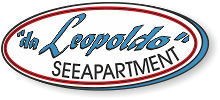 Whereyou can find us
Seeapartment 'da Leopoldo'
Seecorso 18
9220 Velden am Wörthersee
Kärnten · Österreich

E-Mail spambots@email.adieu